Adventures in Thailand
Part One: Bangkok
By Gyn Gerhardt
gyn@seniorcenter.com
The greatest thing about retirement is not just being able to sleep in on Monday mornings, but that everyday is a weekend day. The worst thing about it is missing all the friendships and life purpose the workplace offers. But, that aside, one can fill some of those days with spreading ones wings and covering our wondrous globe. We are so fortunate to be experiencing a period that allows freedom to go to all those far away places with strange sounding names that have been calling us over our life time. When the travel brochures arrived I was a kid in the candy store trying to make that perfect decision. The storybook tales of Siam that I enjoyed as a child and later in life the movie "Anna and the King of Siam" called me to select Thailand as my destination. Tour booked, bags packed, and tickets in hand I was off for my adventure.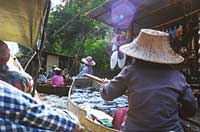 The capitol city of Thailand (old Siam) is Bangkok and this is the city most will fly into when entering this country. Venice may be known for its canals and Hong Kong for its bargains, but Bangkok is both in one city. Upon arriving at the airport, our guide "Nu" was there to greet us and take us to our sumptuous hotel. We rested from the 18 hour flight before taking off on our first adventure.
We boarded a long-tail boat that took us speeding through the numerous canals with teak houses on stilts lining the waterways. The homes are most charming with brilliant tropical flowers spilling from their porches and reflecting in the water. Our boat stopped at a lovely teak home with a patio on the river level, for the pleasure of attending a Thai cooking class. Our gracious hostess taught us how to make various curries so popular in Thailand while her children furnished us with bottles of cool water. After enjoying a superb typical lunch with her and her family, our diminutive hostess allowed us to view her tropical home and share with us some of the typical Thai family traditions.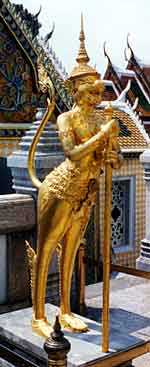 Decorative Spirit Houses are found in front of most every home and business throughout Thailand. There is always a pair, side by side, with the taller one (standing about five feet) on a single post and then a shorter one placed on four posts. The placement of the houses is determined by the practice of Feng Shui and an expert is called in to find the correct spot. The houses will usually be decorated with fresh flowers, some strung together in a chain and candles. The taller of the two honors the spirit of Buddha and the after-life and the smaller one honors the dead relatives of the family. If the family moves or the houses become old with age, the family takes them to the countryside and places them under an old tree. We later saw many trees along the road with old Spirit houses resting under their branches. We also saw many places selling these beautiful houses. Unfortunately they did not fit in my suitcase and I had to leave them behind.
Flowers are a very important part of Thailand and a visit to the flower market will not only fill your eyes, but your nostrils as well. Orchids are everywhere in huge piles. How can one choose? The floating market at Pakklong Talad is also a sight to experience, bargaining for treasures or flowers from your boat to theirs as you both float along the canals.
And speaking of markets, the night market is a must for the hardy, as it gets quite crowded. However, we found the most interesting souvenir: socks with five toes. This was also a great place to get Thai kitchen items if you like to cook.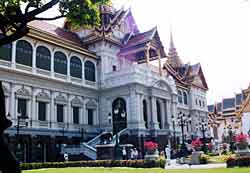 Bangkok is a beautiful city and one cannot leave before visiting the many decorative temples (referred to as Wat). The Vimanmek Teak house, extraordinary Marble Temple, National Grand Palace (Palace of the King Rama IV who Yul Brynner portrayed), sumptuous Wat Phra Keo with the Emerald Buddha, and Wat Po with its gigantic golden reclining Buddha, the largest in Thailand and over 1,000 years old, will all boggle your eyes.
And oh, the bargains! I recently traveled to Hong Kong to find that since it has been given back to the Chinese, the bargains no longer are a reason to go there. Bangkok is now the place for getting custom clothes made. One should visit a recommended tailor upon arrival. Be sure to bring a picture or drawing of that wonderful custom made suit or dress you have been dreaming about. Early in your trip you will want to head off to select from the gorgeous Thai silks and be measured. I chose a delightful 2-piece lined silk suit for under $100. I had a couple fittings and the result was a tailoring marvel. We also visited several jewelry stores where I found a wonderful 18K ring with diamond-eyed elephants trumpeting around the wide band for $260.
Later in our travels, our guide took us to the home of a woman who dyed traditional Thai design cotton outfits with the indigo plant. We watched as she boiled the leaves in huge clay pots and dunked the clothes up and down in the dye. They were a green color. However, when she put the clothes out on the line to dry, they turned a deep indigo blue. We then all gathered upstairs in her showroom, eagerly trying on our treasures. Everyone came back to the bus with bags full of jackets, pants, and shorts for only about $3 each.
The Thai people are the kindest and most gentle and respectful of others. They deeply respect their King(s). This is the reason they will not allow "Anna And The King Of Siam" to be shown in their country. They feel it is disrespectful to exhibit anything considered adverse about their Kings. By the way, Yul Brynner does resemble Rama IV who he portrayed. The current King, Rama IX moved out of the luxurious Grand Palace (a must see for it's unequaled splendor) into a simpler home where he built research centers to develop a better life and economy for the Thai people. He and the Queen devote themselves to projects that will improve the conditions of the country.
Part One: Bangkok
Part Two: The River Kwai
Part Three: The Golden Triangle
Part Four: Saffron Robes and Elephants
Part Five: Reflections