SeniorCenter.com Staff goes to the Washington State Olympic Peninsula
Berry Brunk and staff.
On May 24, 2002, members of the SeniorCenter staff set out for a trip to Washington State's Olympic Peninsula to visit several long-term and assisted living facilities in the region.
The Olympic Peninsula, home of the Olympic National Park, is an area dominated by mountainous terrain and surrounded on three sides by water. It contains the greatest remaining true wilderness forest, and rain forest, in the contiguous United States.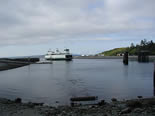 The Keystone Ferry
Its coastal area consists of steep cliffs, sandy beaches with logs and driftwood strewn about, islands, and special rock formations called seastacks.
There are several ways to get to the Olympic Peninsula. Ours was by way of Whidbey Island, crossing Puget Sound by ferry to Port Townsend. From there, you travel through thick forests, alongside bays and inlets on State Highway 101 to Sequim and then Port Angeles, a city overlooking the Strait of Juan de Fuca and Vancouver Island in Canada.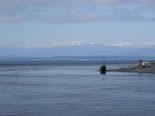 The Olympic Mountains
While in Sequim we visited the people at the Extendicare assisted living facility for independent seniors. Assisted living provides a special combination of residential housing, personalized support services and healthcare. It is designed to meet the individual needs of those requiring help with activities of daily living, but do not need the skilled medical care provided in a nursing home.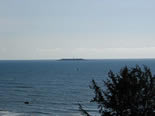 Destruction Island
We then continued on to Port Angeles, where we met with members of the Olympic Medical Center. Residents of the North Olympic Peninsula are fortunate to live in a community that not only offers a great quality of life, but also the best of modern medicine. From the latest in surgical procedures to a host of outpatient services across many medical specialties, Olympic Medical Center rates as one of the finest community health care providers.
The Olympic Memorial Hospital meets the rigorous standards set by the Joint Commission on Accreditation of Healthcare Organizations. Their highly-skilled nursing and technical staff supports 126 inpatient units, a Level III Trauma Center, a state-of-the-art surgery suite, 22 private short stay rooms, and the finest, state-of-the-art laboratory, imaging and rehabilitative services.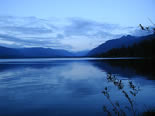 Lake Quinault
Our next stop was Forks, Washington. Forks is located between the Olympic Mountains and the Pacific beaches on the coast. It boasts of the only stop light on a 160-mile stretch of highway. While in Forks we visited the Forks Community Hospital, the Forks High School, and the University of Washington Olympic Natural Resources Center.
Forks Community Hospital's Long Term Care Facility serves the residents of western Clallam and Jefferson counties. Recently expanded and remodeled, the facility now accommodates 36 residents. The facility has been designed to furnish a comfortable, home-like atmosphere, while offering close medical supervision. Their staff is dedicated to providing comprehensive care with a personal touch. Spacious, semi-private rooms offer residents the opportunity to surround themselves with some of their own furnishings. Family pets are welcome to visit. A skilled, professional nursing staff provides individualized care, and should the need arise, the staff and facilities of the Hospital are immediately available.
Forks High School - The Virtual High School
Imagine classrooms where students are able to attend their classes 24 hours a day, seven days a week. Imagine a nearly limitless selection of courses - courses that are innovative and technologically rich, courses that are in the areas of core academics, technology, courses for language minorities. Imagine students working cooperatively online with others from a wide variety of different ages, ethnicities, backgrounds and geographic locations. What you are beginning to imagine is the reality of the Virtual High School.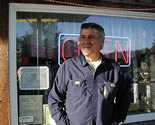 Restaurant Owner Jim Brannon
One of the unique aspects of the Virtual High School is that it provides educational course access not previously available. Across the country, thousands of students are taking content-rich, credit-bearing high school courses never before offered in their buildings.
The Virtual High School is a collaborative of participating high schools; for every semester a participating school offers a VHS NetCourse, that school can enroll up to 20 students in VHS courses.
The University of Washington Olympic Natural Resources Center supports research and education on natural resource management practices which integrate ecological and economic value. The complex offers meeting rooms, dormitories and support for small conferences and training sessions.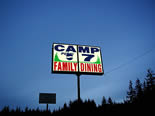 Camp Seven Restaurant, Amanda Park
Then, time for sight-seeing. We drove along the coast, stopping occasionally, taking in the natural, unspoiled beauty of the Pacific beaches. As it turned out, we had perfect, sunny and warm weather. We made a stop at Ruby Beach, where you see the photo of Destruction Island and a seastack in the foreground.
Our final destination for the day was the Camp 7 Family Restaurant and motel in Amanda Park, near Lake Quinault. Our host, Jim Brannon treated us to a fine dinner and his excellent motel accommodations. If you ever get the chance, go to the Olympic Peninsula. And be sure to stop in at the Camp 7 Family Restaurant and say "hi" to Jim.